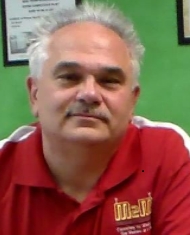 I've resided in Ringoes, New Jersey for over 25 years with my wife and four children. I'm what you call a Maker. My passion is building things - houses, furniture, toys. . . you name it.

Following in my parent's footsteps, I try to help out in the community wherever I can. I've been a Den Leader, Cub Master and Committee Chair for the Cub Scouts. I've been on the board of the local Education Foundation and little league. I've served as President of our elementary school's PTO. For the past several years I've also been an advisor and judge for our school's Student Invention Through Education competition.
I've also been web master for several of those organizations:
For a living I do software & hardware consulting; specializing in Machine-to-Machine communications (M2M). This encompasses a variety of technologies for moving data from machine to machine, and between people and machines. I work with WiFi, Cellular (GSM & CDMA), Ethernet, Bluetooth, USB, ZigBee and GPS. Occasionally, I'll sell kits and parts to allow hobbyist to build products using these technologies.
For more information about me, my products, or services visit one of my web site:
º
UConTroll.com
º
UltimateHauntBox.com
º
SoftwareConceptsInc.com
º
M2M Consultants
º
MadeEasyKits.com
Credit Cards and Web sites -
Don't you just love it when you go to a web site where you have to enter your credit card number and the site says
enter your number with no spaces
? Or it requires you to enter your phone number with dashes between the area code and exchange. Duh! There's a reason credit card numbers are printed with spaces every 4 digits - it's easier for humans to read. Any web programmer worth their salt should be able to write the couple lines of script it takes to reformat your input to suit their needs. If they don't already know how to they should Google it - or ask me!
---
Unreadable CAPTCHA -
I can understand the need for security on web sites - I deal with it all the time in my work. But what's with those disturbingly distorted texts some web sites force you to decipher to access them - those things know as CAPTCHA. All those web sites that use totally unreadable CAPTCHA images should just be deleted from the web. Come on people - if you want my business, don't use images that look like they were created by a cockroach on tiny ice skates. At least give a human a fighting chance to figure out what it says!
---
Passwords -
I really hate those web sites that force me to format my password according to their rules -
your password must be 427 characters long, contain an upper case letter, a number, a special symbol and a hieroglyph
!. Why do they think they know better than me how to pick a secure password. After all, their web sites are the ones that are always getting hacked into. I think my password is pretty secure - it's my age multiplied by my wife's and kid's ages, multiplied by the number of floor tiles in all of our bathrooms. I convert each digit of that number to a letter using a Little Orphan Annie decoder ring. Although I'll bet that if my password was just the letter 'Z' no one would ever guess it.
---
Forwarded Email Jokes -
Don't you hate getting those jokes forwarded to you by your cousin Lucy. You know, the ones that were forwarded through fifty other people. The ones where no one could take the time to strip off all of the Email headers from the previous recipients. So you scroll through twelve-hundred pages of Email address to get to a three line joke - and after all that it's not even funny!
---
Some other Andy Becks on the web -
Painter & Artist
º
Musician
º
Equine Journalist